Welcome to Villach / Klagenfurt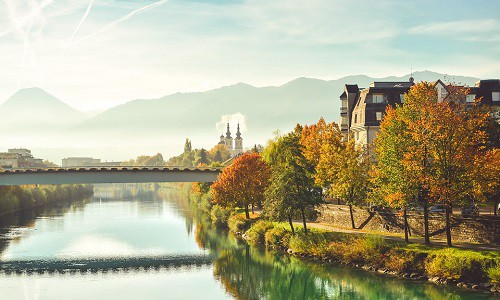 Southern temperament and Carinthian zest for life, a rich history and an agreeable climate, romantic, modern, easy-going, joyful – Villach will enchant you. Cosmopolitan and traditional, stylish and charming – Villach is well known for its cultural variety. Street art and grand cultural events, marvellous festivals and enthusiastic artists turn the whole town into one big stage.
Main attractions:

The Parish Church of St Jacob

On a terrace above the end of the Villach Main Square, is a three-aisled Gothic hall church (14th C.) with a narrow choir and a tower 95m/312ft high (view), linked with the church only by an arched gateway.

 

Villacher Fahrzeugmuseum shows mainly the common cars of the ordinary people of past times and most of them are still in a very good condition.

 

The Finkenstein Ruins

The Finkenstein Ruins (16th century) are located at the foot of the Mittagskogel. The site is now used as a venue for a number of summer cultural events.

 

Minimundus, the miniature world at Lake Wörthersee, is a place to enjoy, stay a while, learn interesting things, have fun, see and experience. The approximately 150 models of famous structures, trains and ships take visitors on a trip around the world in miniature format. Around the world in one day!

Visits & Excursions


Worth to see and visit:

… in the old town of Villach you will enjoy the charm of Hauptplatz (main square) and the pedestrian area.

… take a guided walking tour in the city center of  Klagenfurt and pass along Neuer Platz, Lindwurmbrunnen,  Maria Theresia monument, Altes und Neues Rathaus, Alter Platz and the Landhaus.

… visit the Ferlach  Castle

… go and see the new-gothic Nikolai Church with a Franciscan monastery built in 1892

… take a walk on the pedestrian bridge and you will have a breathtaking view to the south of the baroque Church of the Holy Cross "Zum Heiligen Kreuz"

... go to the "Lindwurm" fountain (built around 1590), Klagenfurt's heraldic animal, originally a bipedal dragon, which glides past the city tower.

 

Excursions:

… take a boat ride on lake Worthersee or Ossiachersee

… visit the castle of Landskorn and the eagle light show

… are you looking for relaxation? You will find it at Erlebnistherme in Warmbad Villach

… on a rainy day why not go and make a visit to the Terra Mystica?

… go and see the Minimundus or the Planetarium

… you like the nature and the mountains? The Gerlitzen Alpe would be the right destination for you.

… if you have more time at disposal go and visit Ljubljana or lake Bled.

* We can also offer you: hotels, restaurants, transfers, guides, assistants, etc

 

* For prices please click here and/or contact us.